While I have always been interested in office material – I remember going through catalogues of pens and paper that my parents brought back home when I was a child / teenager – my interest in organization and "being ready quickly" just went off the charts in the last few years. As usual, turning to the Internet to look into my disease, I learned that there was a name for what I was interested in: Everyday Carry, or EDC in short.
Overview
Looking in more details into this, everyday-carry includes quite a lot, actually a lot more than I will probably ever be interested in. When browsing through websites in the USA, some include guns, knives and different kinds of tactical gear. I am a bit more focused on office EDC, meaning things that I would / might need in an office environment (or on the way to the office). Here are some examples to give you an idea:
Bags
Organizers
Notebooks
Wallets
Key rings
Pens
Watches
Flashlights
Multi tools
Glasses
Electronics

Phone
Computer
Charger(s)
Cables
Battery pack
Headset
USB key
Most of my specific needs evolve around electronics and how to carry and organize all this in the best way. Let me go through a few items!
Bag / Backpack / Rucksack
First things first, when carrying a large number of items, everything would need to get into a bag. Choices are numerous and I have had quite a few bags across the years. From traditional top-loading backpack, to messenger bag, to portfolio, to "tech" backpack and finally recently clam-shell opening backpack. A couple of years back, I got a bag from Oakley (Motion Tech 2.0 Backpack) that I really enjoyed: slim design, dedicated sleeve for the laptop and tablet / notebook, a few pockets for daily essentials. The main problems that I had with it was that
in occasions, it felt a bit too small as it was hard to stash in rain clothes or my over-the-ear headset;
the top handle of the bag quickly started to fall apart (less than a year after I bought the bag)
Reaching to Oakley to get it repaired only resulted in a discount to buy another bag as the one I had was not produced any longer and they didn't have a "repair" program. This experience led me to look after goods that were having a better warranty program, if possible a "buy for life" type of warranty, meaning that if something happens I know that I can go back to the manufacturer to get it fixed. As one can guess, there are not too many companies out there that are offering this kind of warranty, but hopefully more and more will do so as consumers start to realize the ecological impact of simply throwing away stuff as soon as something breaks. See the external links section below to get some inspiration.
With all this considered and after spending way too much time looking for the perfect bag™, I ended up ordering a slick version of GORUCK GR1 from Huckberry as I was not too much into the tactical look of the original version with the MOLLE webbing. It comes with a lifetime warranty that I hope I will never need considering the tough construction of the bag. At 21l, it also feels much larger than the Oakley so there is no problem to pack a rain jacket and pants or my headset. While I haven't been in the office for a while due to covid-19, I used it during the holiday to carry around "my office" and this has been working well. Let's see how it goes later when commuting again.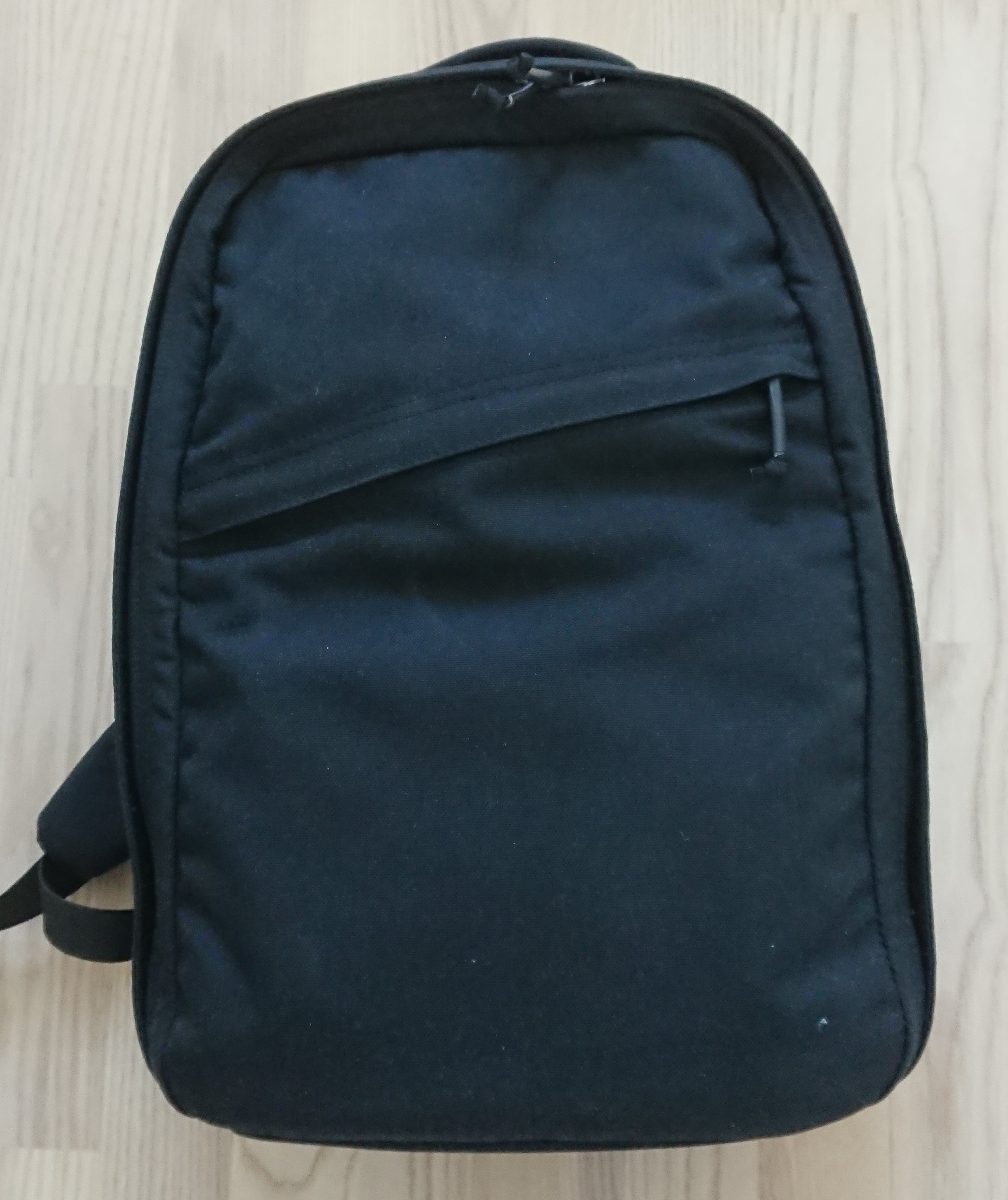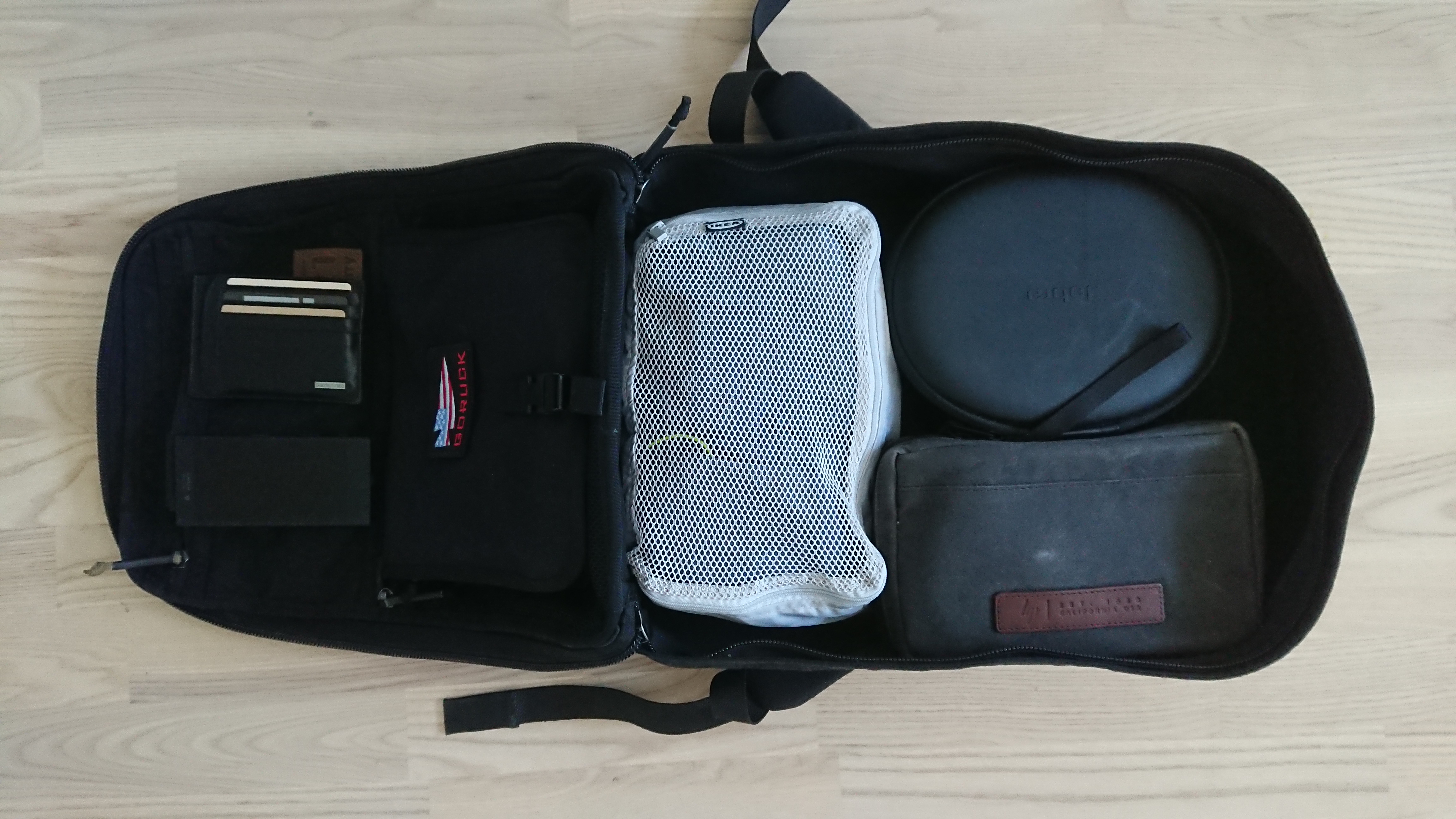 Organizers
Previously, when choosing a bag, I always looked at all the internal organization that it was offering. This might be the reason why I never managed to stick to any bag, because as soon as something that I am carrying around would change, then the bag would be less ideal. It would have either too much organization or not enough. Having everything spread out in the bag in the different internal pockets also meant that it was taking time to switch to another bag and not forget anything. This is how I learned that it would be much better to keep the internal organization of the bag separate from the bag layout. Ironically, this separation of concerns concept is a basic concept in software engineering (my daily job)… I guess it is sometimes hard to make the parallel between different domains :-).
One of the main features of the GR1 is the minimal organization that it offers. This means that if you want things to stick together, you'd better have some organization for it. From packing cubes to tech / admin pouches or wash bags, there are plenty of options out there and pretty much for all budgets.
I started with a HP Spectre Folio Pouch that I grabbed on sale. It opens flat for easy access and comes with some webbing and a large mesh pocket inside. I have been pretty satisfied with it but have a bit too much nowadays so I also bought a couple of GORUCK Wire Dopp and I have split the content in between:
Mouse and adapters go in the Folio Pouch;
Cables and charger go into the Wire Dopp.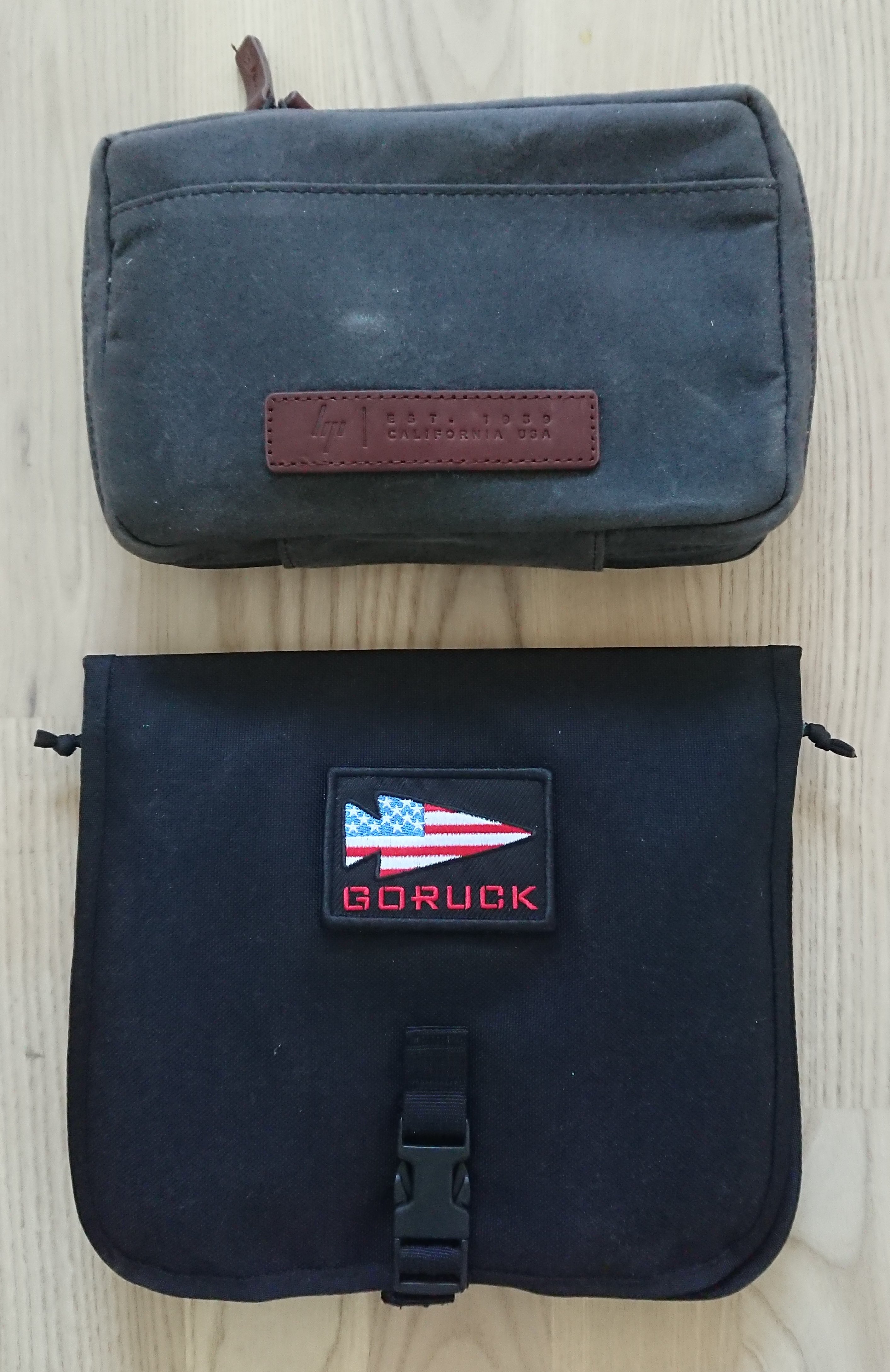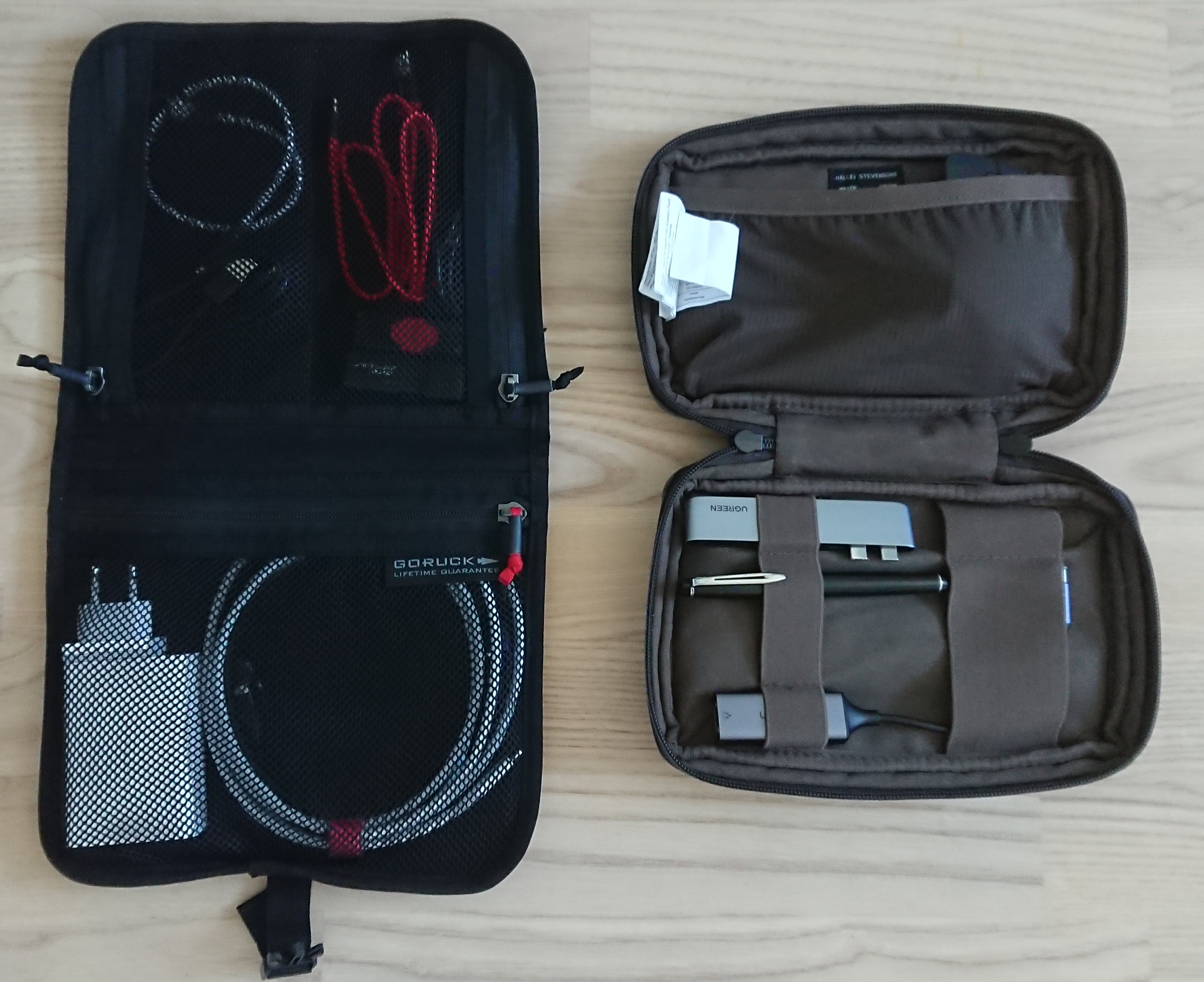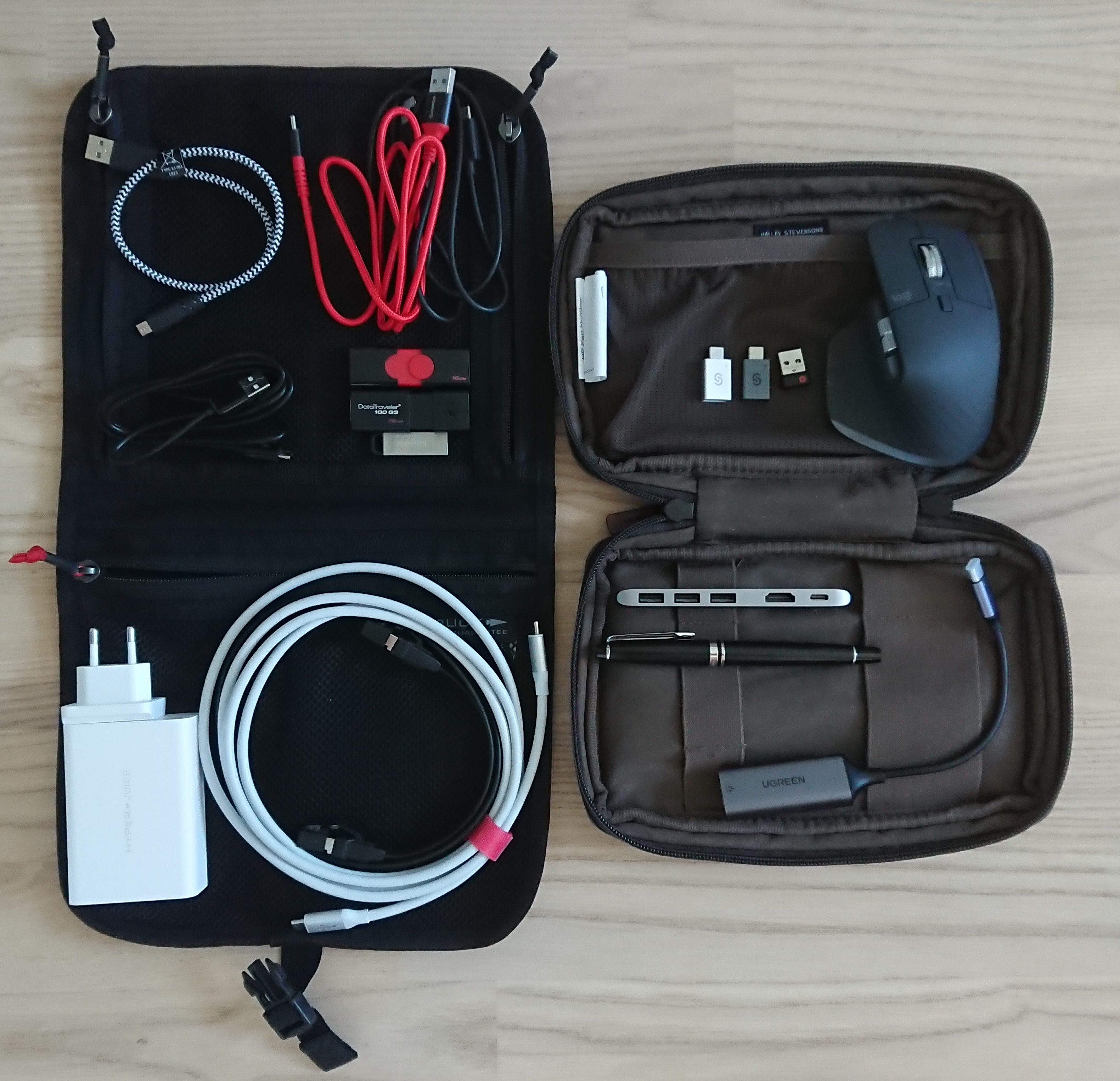 Notebooks
I used to buy a lot of paper notebooks, but a few years ago I decided to try out a reMarkable paper tablet and since then, I do not go anywhere without it. I have the first version and I really enjoy it a lot. I know that they have made a second version, but this felt like an expensive upgrade for something that was still working perfectly so I am sticking with the one I have.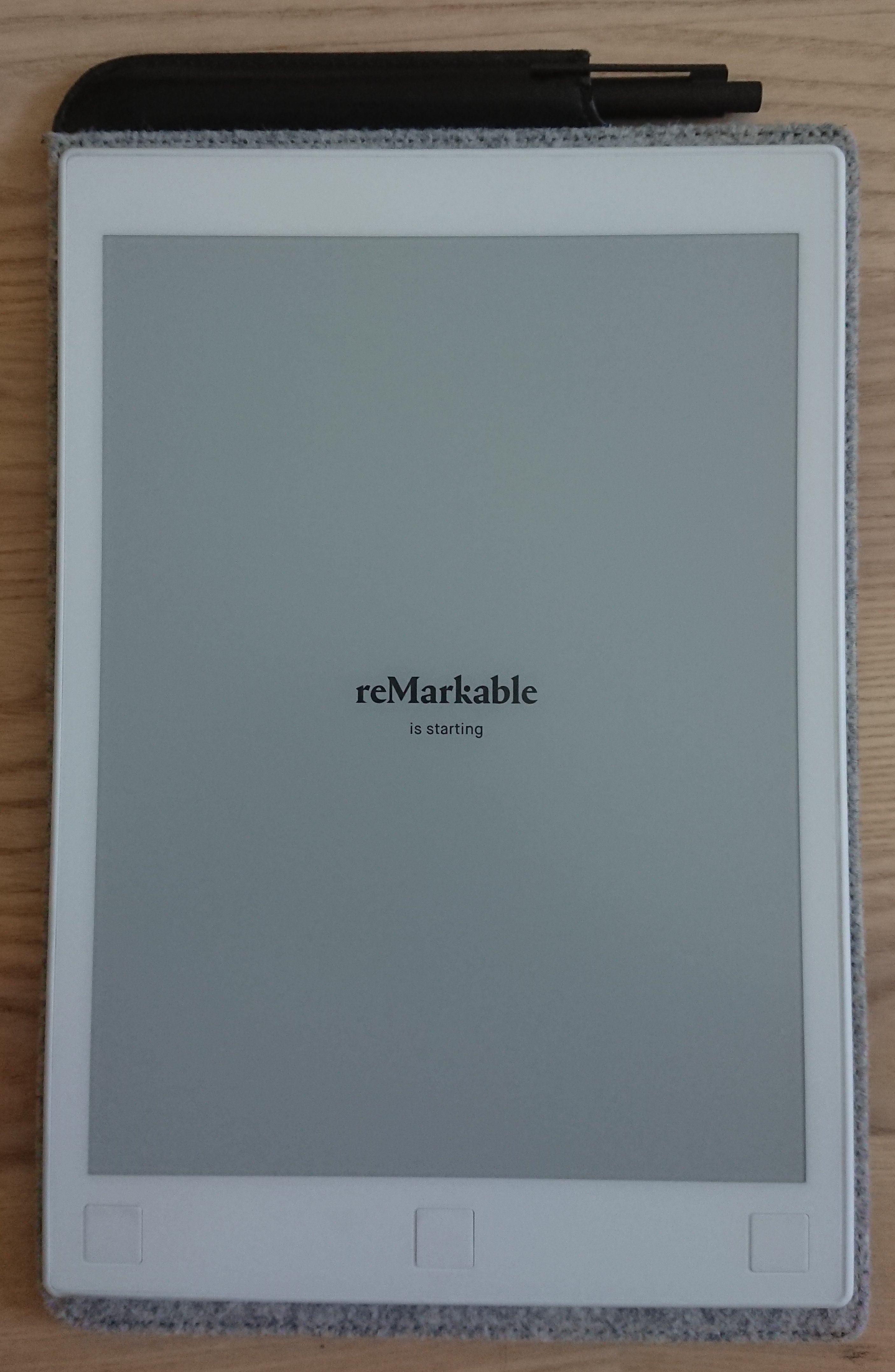 As a person, I usually like to have things in order and paper and notebooks usually become messy and out of order quickly. The reMarkable allows me to insert pages where I need them and easily sort things how I want. But of course, having this tablet means losing the benefit of pen and paper that does not require any charging. As I am writing this, I am considering buying back a few ruled cahier journals from Moleskine that I used to carry around earlier. They don't take much space after all.
Wallet
I'll keep this section short. Sweden is pretty much a cash-free country nowadays so the main things that I need to carry around are plastic cards and the occasional receipts. France had some very peculiar format for their ID card up until the beginning of the month. They decided recently to use a credit card format (like many other countries are already doing) so this means that I might even be able to go one size smaller on my wallet / card holder… except that I can't because I still have a driving license that is a piece of paper folded in three :-(. So I'll stick to what I have for now.
Electronics
This is the bulk of what I am actually carrying around, and for which I need all this organization. There is not much to say about this, but here is the list:
Work phone: I like to separate my private and working life, making it easier to disconnect when needed.
Work computer: Again, my private computer stays home and I carry around the work one. Recently got an upgrade to a Macbook Pro 16''. I usually prefer a more compact format (13 or 14 inches) but like the additional real estate when working from home without an external screen.
Charger: I bought a GaN 100W charger from Hyper on Kickstarter a while ago and this is really convenient to be able to charge up to 4 devices at once (laptop included).
Cables: different mini-USB and USB-C cables in different sizes for the devices mentioned above as well as a short network cable when one needs to connect directly to an outlet / router.
Adapters:

I have a number of USB-A devices (headset and mouse connectors, USB-keys) and the MBP only comes with USB-C ports, so here we are with small adapters allowing me to connect all those things.
USB-C to RJ45 Network adapter

Headset: an over-the-ear headset from Jabra with Active Noise Cancellation – particularly helpful when working from home and your neighbor decides it is time to redo the kitchen.
USB keys: a few keys, mainly holding different Linux distro that I tried out or few larger files that need to be shared
Mouse: a Logitech MX Master 3
Misc
As I mentioned above, I usually pack some rain gear – both rain jacket and pants – inside a packing cube from IKEA. The jacket is a simple light-weight one, and the pants have a side opening pretty much all the way up to the waist so that they are easy to take on while keeping my shoes on.
Last Word
EDC encompasses a lot of gear and there is no right or wrong in there, only whatever works for you. The good thing is that it gets you thinking about what are the things that you need (or might need) so that you are ready for situations that life throws at you.
---